posted by www.equatorialguineaonline.com – January 28th, 2013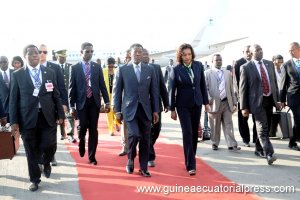 In the International Airport of Addis Ababa (Ethiopia), the presidential couple was received with military honors by members of the Ethiopian Government and the Equatorial Guinean colony led by the Ambassador of our country, Ruben Maye Nsue Mangue.
Work began on Saturday at the headquarters of the African Union (AU) in Addis Ababa, with the meeting of the Committee of the ten Heads of State on the reform of the United Nations in the five African regions: Central Africa (Congo and Equatorial Guinea), East Africa (Kenya and Uganda), North Africa (Algeria and Libya), Southern Africa (Namibia and Zambia) and West Africa (Senegal and Sierra Leone). This committee was formed in July 2010.
The meeting, chaired by the Head of State of Sierra Leone, Ernest Bai Koroma, served to study the African common position with respect to the aforementioned reform.