posted by www.equatorialguineaonline.com – April 19th, 2013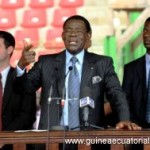 On  Wednesday, April 17, the New Stadium of Malabo put the finishing touch to the official tour of the Equatorial Guinean presidential couple which took place throughout the country in view of the upcoming senatorial, legislative and municipal elections.
The city of Malabo was the ending point of the official tour that the Head of State and the First Lady carried out in the seventeen districts. In the State capital, units of the land, sea and air armies granted military honors to the presidential couple when they arrived at the sports stadium in Malabo, where the audience closely experienced closing of the tour that the President of the Republic had carried out, in view of the elections for next May 26.
In the acts of the eighteenth and final stage of this journey, there were, among others, speeches by the Mayor of Malabo, Maria Coloma Edjang Bengono and the chairman of the district council of the Democratic Party of Equatorial Guinea (PDGE), Eugenia Boko Babeko who called for the convening of a conference of reflection on the women within the ruling party.
At the same ceremony the Chancellor of National Orders read the presidential decree that confers the bronze medal of the Order of Independence to the Delegate of Social Affairs and Promotion of Women in Malabo, Aurora Momo Boabonay, for having served the country for over thirty years. H.E. Obiang Nguema Mbasogo awarded her the corresponding medal.
In the presence of the national authorities and the Government of Equatorial Guinea in full, the leader of the country detailed the contents of the message he transmitted during the tour of the country, in view of the May elections.