Posted by www.equatorialguineaonline.com – September 10th, 2013
This is the collection of personal objects that over the years has been collected by the Second Vice President, Nguema Obiang Mangue, a big fan of the late singer, who has gone down in history as one of the great music icons and African American and international culture.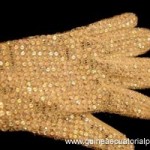 The objects in the collection of Michael Jackson, collected by H.E. Second Vice President of the Republic, Nguema Obiang Mangue, are already in Equatorial Guinea, where they will soon be exhibited so that the Equatorial Guineans and all the interested fans can see them in person. Among them are, for example, the famous singer's glove, lined with Swarovski crystals, or the jacket with which he recorded the world's most famous video, "Thriller".
Michael Jackson was one of the biggest icons of African American music and of international culture, whose memory deserves to be respected and saved. Sources close to the Second Vice President commented to www.guineaecuatorialpress.com that the collection has already traveled to Equatorial Guinea, where it will be exhibited from October 12 at the Equatorial Guinean Cultural Center. Thus, all the fans of Michael Jackson can come to see this personal collection, which was acquired through various purchases through public auction. The television in our country will also show from today the first images of all these personal items.
The Second Vice President's dream of allowing everyone to enjoy the collection of Michael Jackson was postponed by the attempt by the justice system of the U.S. Government to requisition these and other goods that belonged to him, by accusing him of an alleged offense relating to ill-acquired property. However, after two years of fruitless lawsuits, the U.S. judges have repeatedly ruled in favor of H.E. Nguema Obiang Mangue, and have ruled on several occasions that there is no proof of these allegations. Just a week ago, we also received the news that the name of the Second Vice President is no longer in the files of persons against whom there is a warrant for their arrest in the international police INTERPOL.
Finally, the objects of Michael Jackson have been returned once again to their rightful owner, who is a sincere and passionate admirer of the African American singer. But the relationship of Nguema Mangue with the Jacksons does not stop here, because the Second Vice President is also a good personal friend of the Jackson family. For this reason and invited by him, in 2011, Marlon David Jackson, Michael's brother and component of the mythical The Jackson 5, visited Equatorial Guinea. This way, Marlon was personally able to see our country, and he made ​​laudatory comments after his visit.