posted by www.equatorialguineaonline.com – November 20th, 2013
The journey of the La Roja was not only a success in sports, but also at the organizational level, in which Equatorial Guinea has again shown it is prepared to host any international event of the first order.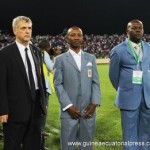 Although the match aroused some controversy in the Spanish media, the Spanish Football Federation, confirming that La Roja played without any financial compensation, as had announced the Minister of Youth and Sports, Francisco Pascual Obama, and afterwards the President of the Spanish High Council for Sports (CSD), stating that "the Spanish Football Federation asked the CSD and the Government and we gave this authorization. If this event took place again, it would be the same. I have no reason to ban or veto a match in Equatorial Guinea. I recall that the President of Equatorial Guinea has been received in our country by Government presidents of the two major parties," said Miguel Cardinal, settling the controversy.
The Spanish Football Federation, led by its President, Angel Maria Villar, has an excellent relationship with the heads of the FEGUIFUT and this trip has served to strengthen those relationships, which in the near future may involve the establishment of new routes of collaboration that, in turn, will impact the improvement of the national sport.
The Spanish federation delegation, which included the entire coaching staff and players, stayed at the Sofitel Malabo Sipopo Le Golf, where they had the fourth floor exclusively to themselves. The members of the delegation highlighted the quality of the facilities and idyllic setting of the hotel.
The match had a maximum following in the country through the broadcast of RTVGE and in Spain was the most viewed of all the weekend on Spanish television with 4,448,000 fans and an audience share of 25.1%.