Posted by www.equatorialguineaonline.com – January 9th, 2014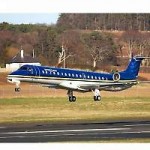 MALABO, Equatorial Guinea – Punto Azul, today announced the launch of direct flights linking Equatorial Guinea's capital Malabo to Accra, Ghana. While making the announcement during a televised interview Punto Azul Managing Director, Mr. Paul Richards stated that the two weekly flights would be formally launched on January 15, 2014. During the same interview he confirmed Ghana becomes the second regional destination for the airline.
"Since the launch of our operations last year, we have sufficiently served the domestic market with the right product, the addition of Accra to our regional destinations marks the first regional route this year with others to follow", said Mr. Richards.
"We are very grateful for the efficient, professional and cordial treatment shown by the Ghana Civil Aviation Authority in paving the way for our flights to Ghana", added Mr. Richards. He further added that Malabo Accra flights would start off with two weekly frequencies operated every Tuesday and Saturday. The launch flight is expected to take to Accra leading government officials, travel agents, businessmen and the media.
Also present at the interview on Guinea TV was President of the Chamber of Commerce, Don Gregorio Boho Camo who commended the airline for its professionalism and efforts in connecting Equatorial Guinea to regional markets. "The growth of aviation in our country is key to the expansion of our economic activities as a nation within the region", said Don Camo.
To boost its sales and distribution in the new market, the airline has also announced appointing APG Ghana as its General Sales Agent for the Ghana market.
Though not formally announced yet, Punto Azul is expected to launch flights to Nigeria, Gabon, and Cameroun among other key Central and West African destinations. Currently, the airline utilizes its spare capacity by running charter operations apart from the scheduled flights.