Posted by www.equatorialguineaonline.com – November 16th, 2013
The Prime Minister of the Government for Administrative Coordination of Equatorial Guinea, Vicente Ehate Tomi, received in his office in the headquarters of the Presidency of the Government the representatives of the World Bank for Central Africa and Equatorial Guinea, Gregor Binkert and Zouera Youssoufou.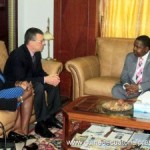 The audience of the Prime Minister had the intention of dealing with the new actions of collaboration that the World Bank will provide to Equatorial Guinea; collaboration that will include, from the training of human resources in the sectors of education, healthcare and social protection, to the accompaniment of the Government of Equatorial Guinea in the country's industrialization plan.
Especially important was the theme of the diversification of the economy, which precisely will be the subject of a conference that will be celebrated in February, 2014, with the purpose of attracting businessmen to invest in our country. In fact, among the subjects discussed was the form in which the World Bank can help to achieve this objective: "We are willing to respond to the demand of the Government, which is also appreciating our contribution", said Gregor Binkert.