Posted by www.equatorialguineaonline.com 12/15/13
H.E. Obiang Nguema Mbasogo and the First Lady of the Nation, Constancia Mangue de Obiang, held on December 12 the 45th anniversary of their marriage, surrounded by authorities, friends and family coming from different localities.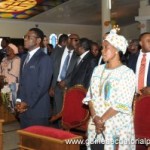 The presidential couple during the anniversary mass.
The Bishop of the Diocese of Ebebiyin, Monsignor Juan Nsue Edjang, celebrated on December 12 in the city of Mongomo, a thanksgiving mass on the occasion of the town's patron, Our Lady of Guadalupe, which coincided with the 45th anniversary of canonical marriage of the Equatorial Guinean presidential couple.
The ceremony was attended by members of the Government, led by the Third Deputy Prime Minister for Human Rights, Alfonso Nsue Mokuy, the Governor of the province of Wele Nzas, Deogracias Miguel Olomo Abia, and the Secretary-General of Democratic Party of Guinea Equatorial (PDGE), Jeronimo Osa Osa Ecoro.
Late Thursday afternoon, the President of the Republic, H.E. Obiang Nguema Mbasogo and the First Lady Constancia Mangue de Obiang, offered guests a reception at the Hotel Mongomo.
The congratulatory messages to the presidential couple for their 45 years of marriage have been the dominant trend of this ceremony, in which the guests enjoyed a musical performance by artists such as Miss Yuma, Piruchi Apo and Muana Sinepi, among others.