posted by www.equatorialguineaonline.com – May 7th, 2013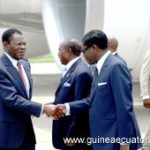 Upon their arrival at the Malabo International Airport, the Head of State and the First Lady were greeted by political, administrative and military authorities, headed by the Vice-Presidents of the Republic, Ignacio Milam Tang, for Presidential Affairs,  and Teodoro Nguema Obiang Mangue, for Defense and State Security.
During his stay in the U.S., H.E. Obiang Nguema Mbasogo attended the Special High Level Session of the UN on conflicts in Africa, held in New York City.
In meeting with the press at the presidential hall of the airport, the leader of the nation said his visit to the United States was due to an invitation made ​​by the President of the General Assembly of the United Nations.
-"Africa is under pressure right now, especially from the former colonialists who seek to destabilize Africa. The internal instability experienced in Africa is due precisely to these politics. The great powers have used the United Nations to destabilize other countries, that is why they have the right to veto,"said the President.
In this regard, the Head of State added that Africa should have its place in the Security Council with veto power, so they can oppose the intervention of the powers seeking to destabilize the continent.
The President also called on African leaders to unite, for the purpose of taking responsibility for their nations, and suggested to the great powers to cease their politics of creating instability, not only on the neo-colonialist level, but also in the economic aspect.
Similarly, H.E. Obiang Nguema Mbasogo was in contact with the U.S. to address cooperative relations between the Governments of Malabo and the United States.