posted by www.equatorialguineaonline.com – October 8th, 2013
During his speech at the 68th United Nations General Assembly in New York, H.E. Obiang Nguema Mbasogo condemned the attack in Kenya and expressed his position on current issues. A summary of that speech can be seen at
http://www.youtube.com/watch?vcx6wjViQl_4&featureshare&listUUw-fAmKLbw6kNshkn2_iTcg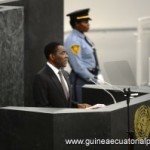 The President of Equatorial Guinea used his speech at the 68th United Nations General Assembly in New York to show his position on some of the most current international issues.
Besides condemning the recent assault on a mall in Kenya, the President expressed his position on the negative effects of the humanitarian intervention.
-"Internationally, we are very concerned about the negative effects of the so-called humanitarian intervention of the United Nations, far from guaranteeing human rights and welfare of the affected people, it is more oriented to imposing political systems and democracy by undeclared interests" said the Head of State.
He also recalled the situation of peace and stability in Equatorial Guinea, which has provided the country with a "harmonious political development and genuine national democracy".