posted by www.equatorialguineaonline.com – August 13th, 2013
The event took place last weekend at the headquarters of the Chamber of Commerce of Bioko, in the presence of the President of the institution, Gregorio Boho Camo.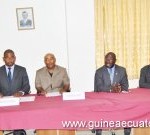 The meeting, in addition to the leaders of the Association of Small and Medium Enterprises, was also attended by representatives of Equatorial Guinean companies registered in the association. The meeting with employers had as its objective to present the association and its board, which consists of a chairman, deputy chairman and other members.
The idea of ​​the creation of the association was to give Equatorial Guinean businessmen representation to protect their interests, said the Director-General of Small and Medium Enterprises. It will also serve as a tool to improve business performance in our country and for Equatorial Guinean businessmen to increase their activities.
The President of the Chamber of Commerce of Bioko reaffirmed that the creation of the association will contribute to national development, and to make business coordination effective. Boho Camo also described the business sector as the engine of development of Equatorial Guinea.
He continued his speech by giving hope to businessmen and their activities, which could be funded by the Economic and Monetary Community of Central Africa (CEMAC), so that Equatorial Guineans can benefit from the opportunities offered by this organization. He concluded by telling the businessmen that the Chamber's doors are open to them.