May 4th, 2011
Published by EquatorialGuineaonline.com
www.equatorialguineaonline.com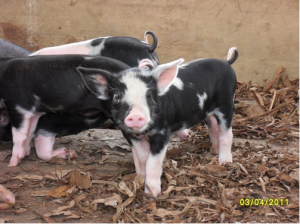 Management and Economic Consulting, Inc. (MAECI) established a pig project in Equatorial Guinea in January of this year.  The pig project is located on the Mongomo Farm, located in Mongomo, Equatorial Guinea.  The Mongomo Farm is the site of the countries initial farm project with MAECI.  Pig Project in Equatorial Guinea expanded by MAECI
The pig  project was initiated with 20 piglets, has now produced close to 100 pigs.  The pigs will be raised to full size within the first 9 months.
MAECI is in the process of building 20 New Pig Pens.  These pens are being built by local carpenters in Equatorial Guinea.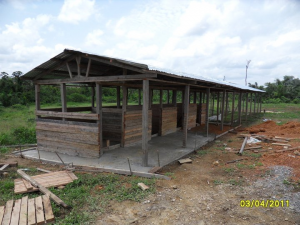 The pigs are expected to grow to a size of 150 – 160 kilograms.  Once they reach full size, some will be sold live in the towns of Mongomo and Bata, and some pigs will be slaughtered and frozen for purchase by the local restaurants, hotels and supermarkets.
The pig project is supervised by Christopher Fombu of MAECI, and managed by MAECI Agriculture Manager Albrecht Albers. This section of the farm is currently maintained by 5 – 7 members of the surrounding villages , and should expand to 15 employees within the next few months.
MAECI is expected to expand the pig project in multiple locations in the country including the provinces of Cogo, Mboete, Niefang, Anisoc, Tegete, Oveng, Moyos, Basile and Riaba.  The pig farm project is expected to produce 500 – 700 tons of pork products per year, which will satisfy the current demand within the country, and bring a product into Equatorial Guinea that has been imported on a limited basis to date.
The Mongomo Farm is a 100% efficient (no waste) program, and organic farm that uses almost no chemical fertilizers.    Everything produced on the farm is sold into the market, and by-products, such as pig waste is used for fertilizer. The pigs are fed with the lower grade (not for human consumption) grain that is grown at the farm, as well as coconut husks that are picked up from a neighboring coconut oil factory.  In addition, MAECI picks up waste from a brewery in Bata that is trucked to the farm for consumption by the pig population.
In addition, the timber output from the deforestation process used to clear the land, is cut into planks for construction of new buildings on the property to house the pigs.  The timber that isn't of a quality or size to cut into planks, will be used in the charcoal project.  The timber is burned in a kiln, and the charcoal is bagged and sold into the market.  The ash that is produced in the burning process is used as fertilizer on the farm.
This project is a part of the Green Revolution that has been supported and invested in by the Government of Equatorial Guinea and soon the country will reach an unprecedented level of self-sufficiency in food production, using revenue from its oil sector, because of a bold approach to revamping driven by Minister of State, Minister of Agriculture and Forests H.E. Teodoro NGUEMA OBIANG MANGUE
The Green Revolution, and it is borne out of a three-step assessment of the E.G.'s Food, Agriculture and Economic challenges and opportunities. President Obiang Nguema Mbasogo outline the vision in 2007.