posted by www.equatorialguineaonline.com – December 29th, 2013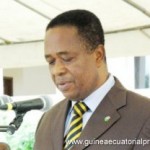 The death of Diosdado Sergio Osa Mongomo, which occurred on Christmas Eve, was announced in the media. According to family sources, his remains were taken to his hometown, Nnoaquieñ, near Mongomo, on Thursday, December 26.
The young politician, who sadly died at age 54, was Senior Engineer in Agricultural Sciences. During his career, he held various positions in the Central Government, including that of Delegate Minister of Agriculture and Forestry.
He also had other public responsibilities: National Director of the Project of Self-Employment of Rural Women (PRAMUR) in the Ministry of Social Affairs and Gender Equality, Secretary-General of the Ministry of Public Works and Infrastructures, Presidential Advisor in the Ministry of Agriculture and Forestry and Vice Minister of the same department. He was also Governor of the International Fund for African Development (IFAD).
In addition to these positions, Osa Mongomo was Director of the CLUSA National Project in the Ministry of Agriculture, member of the board of directors of the National Institute of Agricultural Promotion of Equatorial Guinea (INPAGE) and Deputy Director of the National School of Agriculture (ENA), among others.