May 15th, 2011
Published by EquatorialGuineaonline.com
www.equatorialguineaonline.com
Management and Economic Consulting, Inc. (MAECI) new farm project in Oveng is producing results as tomato and egg plant is being harvested in Equatorial Guinea.  The farm project in Oveng is the next phase of the initial farm project initiated by MAECI.  The original project is located in Mongomo, Equatorial Guinea.  MAECI signed a contract with the government last year, to develop farming operations in 9 sections of the country.  This contract was signed by Samuel C. Nana-Sinkam PhD, President of MAECI.  See video of signing ceremony http://www.youtube.com/watch?v=lcHWrhQx_Yk
The Oveng farm is maintained by 25 – 30 members of the surrounding villages.   Once the tomatoes and eggplant are picked and bagged or boxed, they are delivered to the local market.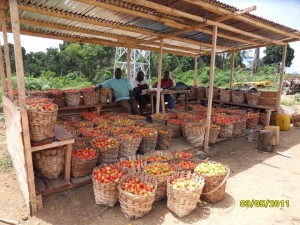 According to MAECI Vice President Christopher J. Massaro, The farm is expected to produce 15-20 tons of tomato and eggplant per year, which will satisfy the current demand within the country, and eliminate imports from surrounding regions.
The tomato output will be sold as fresh produce, as well as being processed into canned tomato products.  MAECI will be responsible for managing the processing facility.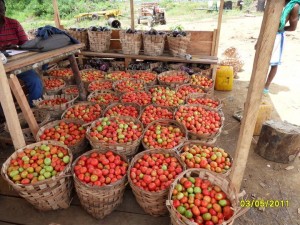 The Mongomo Farm is a 100% efficient (no waste) program, and organic farm that uses almost no chemical fertilizers.  Everything produced on the farm is either sold into the market as fresh produce or processed, and by-products are used for fertilizer or feed for animal farms.  In addition, the timber output from the deforestation process will be cut into planks for construction on buildings on the property, or sold in the market.  The timber that isn't of a quality or size to cut into planks, will be used in the charcoal project.  The timber is burned in a kiln, and the charcoal is bagged and sold into the market.  The ash that is produced in the burning process is used as fertilizer on the farm.
MAECI's goal is to strike a balance between man power and technology in a developing country, importing state-of-the-art farming equipment from the United States of America, but offering significant employment opportunities the population of the communities where the farms are located.
This project is a part of the Green Revolution that has been supported and invested in by the Government of Equatorial Guinea and the President Obiang Nguema Mbasogo and Minister of State, Minister of Agriculture and Forests H.E. Teodoro NGUEMA OBIANG MANGUE.