Posted by www.equatorialguineaonline.com – October 3rd, 2013
Agapito Mba Mokuy has made a trip of less than 24 hours to Libreville, on the morning of Wednesday, October 2, to deliver a personal message from the President of the Republic to his Gabonese counterpart and brother, H.E. Ali Bongo Ondimba.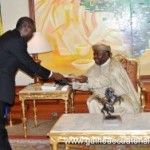 A delegation from our country's Government, led by the Minister of Foreign Affairs and Cooperation, Agapito Mba Mokuy, and comprised by the Vice Minister of National Security, Juan Ndong Nguema and Inocencio Olo Nseng Esono, Ambassador for Special Missions of the Minister of Foreign Affairs, made an official visit to Libreville.
The Friendship Palace of the Gabonese capital was where the audience and delivery of the message to President Ali Bongo Ondimba took place. In addition, the meeting also served to discuss issues of bilateral cooperation between Gabon and Equatorial Guinea, according to the statement to the press by the Minister of Foreign Affairs of Equatorial Guinea, following the meeting.
The message's content was not disclosed, but the proximity of the anniversary of the independence of our country, on October 12, suggests that it is an invitation to the President of Gabon to attend the festivity, but there are also matters of bilateral cooperation that are constant talking points between the two countries.
Equatorial Guinea and Gabon, as well as being two sister countries and neighbors, maintain good economic cooperation and neighborly relations. They also agreed on the creation of a mechanism for political dialogue on bilateral issues and regional and international problems of mutual interest, whose first step took place last September in the city of Malabo.