MAECI has begun expansion of Poultry Project in Equatorial Guinea
April 26th, 2011
Published by EquatorialGuineaonline.com
www.equatorialguineaonline.com
Management and Economic Consulting, Inc. (MAECI) has begun the expansion of their poultry project in Equatorial Guinea.  The poultry project is located on the Mongomo Farm, located in Mongomo, Equatorial Guinea. 
MAECI farm manager Albrecht Albers has stated that " It's essential to build the Chicken facilities as professionally as possible to keep in line with health and hygiene standards, as well utilizing local skilled people for the carpentry work to continue the training process of the people of Equatorial Guinea"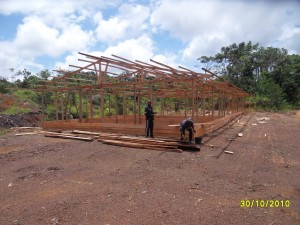 MAECI's second chicken house is complete and ready for the new day-old chickens to be delivered, these will provide fresh chicken to the local market, once the chickens are six weeks old and weighing in at about 1.5kg, they will be delivered. These chickens have been arranged for the upcoming African Union Summit in June.  The excess chickens will be delivered to the local markets.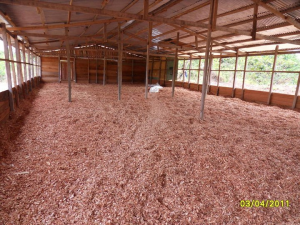 In the initial chicken house, the layers are now  four and a half months old and have started laying eggs,  at a rate of 450 eggs a day, these will be transported to the marked on weekly basis.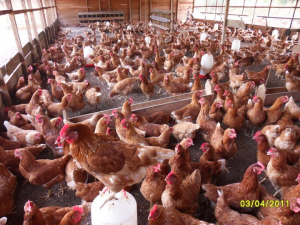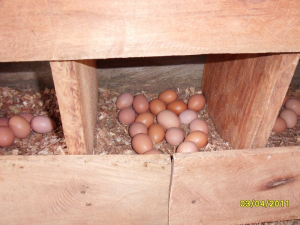 The project is supervised by Christopher Fombu of MAECI, and managed by MAECI Agriculture Manager Albrecht Albers (seen in photo). This section of the farm is maintained by 7 – 8 members of the surrounding villages.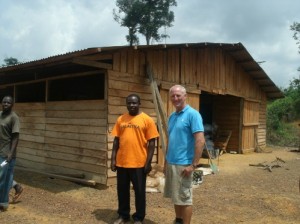 MAECI is expected to expand the poultry project in multiple locations in the country including the provinces of Cogo, Mboete, Niefang, Anisoc, Tegete, Oveng, Moyos, Basile and Riaba.  MAECI is in the process of expanding the project to take on more chickens for poultry and egg consumption.  The project is expected to produce 50,000 – 60,000 live and frozen chickens per year, and 60,000 – 65,000 dozen eggs per year.  These quantities will satisfy the current demand within the country with fresh product, and eliminate the need for imported poultry products.
The Mongomo Farm is a 100% efficient (no waste) program, and organic farm that uses almost no chemical fertilizers.   Everything produced on the farm is sold into the market, and by-products, such as chicken waste are used for fertilizer. The chickens are fed with the lower grade (not for human consumption) grain that is grown at the farm. The water the chickens drink is pumped in from streams on the farm. 
This project is a part of the Green Revolution that has been supported and invested in by the Government of Equatorial Guinea and soon the country will reach an unprecedented level of self-sufficiency in food production, using revenue from its oil sector, because of a bold approach to revamping driven by Minister of State, Minister of Agriculture and Forests H.E. Teodoro NGUEMA OBIANG MANGUE
The Green Revolution, and it is borne out of a three-step assessment of the E.G.'s Food, Agriculture and Economic challenges and opportunities. President Obiang Nguema Mbasogo outline the vision in 2007.