MAECI Equatorial Guinea Farming Project producing results and training the people
May 2nd, 2011
Published by EquatorialGuineaonline.com
www.equatorialguineaonline.com
Management and Economic Consulting, Inc. (MAECI) in currently growing a variety of fruits and vegetables on their Mongomo Farm location, in Equatorial Guinea.  Currently, the initial test crop of  3.3 hectares, is growing vegetables which includes (Cabbages, Sweet Corn, Cucumber, Lettuce, Radish, Tomatoes, Egg Plant, Sweet Pepper, Hot Peppers, Green Beans and Carrots).
The MAECI farm project is  producing results and training the people from the surrounding villages.  In the photo below, you will see the MAECI Staff harvesting and packing vegetables ready for market.   A refrigerated truck every Thursday to collect vegetables and transport to the local Market.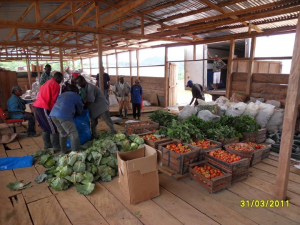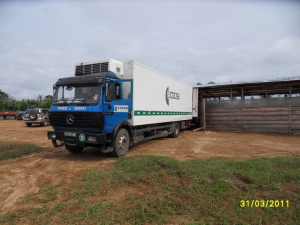 The MAECI staff are tought to propegate seedlings and plant out into the garden. They are tought how to recognise sick or deseased plants, how to apply organic weediside, recognise pests and generally how to run a vegetable garden on a comercial scale.  The MAECI – Equatorial Guinea farm project is 100% organic.  The fruits and vegetables grown on the Mongomo Farm site will be served at the upcoming African Union Summit, scheduled to be held in Equatorial Guinea in June 2011.