Posted by www.equatorialguineaonline.com – November 16th, 2013
More than 12,000 supporters went to the New Stadium of Malabo to watch the training of the Spanish national team, who responded affectionately to the visitors and to the enormous join of the great Equatorial Guinean fan base.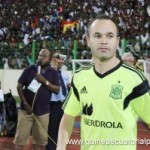 At least three-fourths of the New Stadium of Malabo was filled to see the training session of the Spanish team. The players were received like authentic idols and the names of the Spaniards did not cease sounding during the entire session.
Vicente del Bosque prepared a series of exercises that included a brief game, watched with the maximum expectation by the spectators. At the same time, the players of La Roja enjoyed the warmth of the supporters that made them feel at hom. The most acclaimed were Iniesta, Casillas and Ramos, although there were fans for the entire team.
In view of the match it is envisaged that Spain will form a team integrated by reina, Juanfran, Bartra, Iñigo Martinez, Alberto Moreno, Koke, Xabi Alonso, Cazorla, Navas, Mata and Negredo.