posted by www.equatorialguineaonline.com – December 2nd, 2012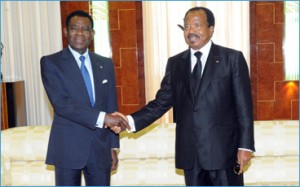 The President of the Republic His Excellency Paul BIYA and President  Teodoro OBIANG NGUEMA MBASOGO of Equatorial Guinea had intense  discussions geared at intensifying the bilateral cooperation between  Equatorial Guinea and Cameroon and strengthening integration of the  Central African sub-region. The discussions at Unity Palace were the  culminating act of the visit of President OBIANG NGUEMA and his wife to  Yaoundé
When the plane bringing in the President of Equatorial Guinea and his touched down at the Nsimalen International Airport this morning, President Paul BIYA and Madam Chantal BIYA were on hand to personal give the visiting Presidential Couple a befitting welcome.
The military honours that were executed with precision and professionalism were testimony of the meticulous preparation for a hitch free welcome ceremony for President Teodoro OBIANG NGUEMA MBASOGO and his wife, Madam Constancia MANGUE De OBIANG. The visiting Head of State then greeted the constituted corps and were then led to the Presidential Lodge for a brief stop.
The motorcade of the two Heads of State left for Hilton Hotel where they stopped briefly for President OBIANG NGUEMA to take up the lodge provided for him. President Paul BIYA left for Unity Palace where he later welcomed the visiting Head of State. The two Presidents had intimate discussions that lasted two hours.
Madam Constancia MANGUE De OBIANG equally came to Unity Palace for discussions with her Cameroonian counterpart, Chantal BIYA.
At the dinner that was offered the visiting couple, President Paul BIYA, in his toast, expressed his satisfaction with the visit of President OBIANG NGUEMA, because it was an opportunity for the two countries to iron out their differences and to foster bilateral cooperation and sub-regional cooperation.
The Head of State stated that the sum total of good bilateral links between the member countries of CEMAC will go a long way to intensify their integration.
In his response, President Teodoro OBIANG NGUEMA MBASOGO lauded the statesmanship and clairvoyance of President Paul BIYA who consistently refused to listen to those who want to sow discord between the two countries.
He said Cameroon and Equatorial Guinea were bound to live together for eternity and should therefore cooperate for their common good.
President OBIANG NGUEMA and his wife late left for the airport where President Paul BIYA and Madam Chantal BIYA wished them a safe return to Malabo. At the end of the visit, both Heads of State and their delegations were visibly happy that the two brotherly countries had once more shown prove and determination of their desire to work together for the development of the two countries and the wellbeing of their people.