Posted by www.equatorialguineaonline.com – March 11th, 2014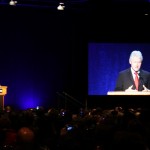 Former President Bill Clinton's keynote address closed Senator Chris Coons' third annual Opportunity: Africa conference Monday in Wilmington.
Clinton spoke for 40 minutes, discussing the Clinton Foundation's work in Africa and the challenges that remain. He stressed the concept of greater global interdependence in the 21st century and the need for creative cooperation to a crowd of about 1,200.
Clinton pointed to Nelson Mandela as an example of the power of creative cooperation, citing his willingness to include some of most vocal opponents in his cabinet when he led South Africa.
"And all of you really should be that kind of agent of change," said the former president. "If you are African, it is your continent and your country. If you're not, you should be going there on an empowerment mission to work ourselves out of a job so that we'll have partnerships that will endure."
Clinton believes that this creative cooperation was instrumental in helping to fight the African AIDS epidemic which has seen the number of AIDS patients receiving treatment on the rise and AIDS deaths falling.
Clinton also argued average citizens have more impact than ever before through social media and the sharp rise in Non-government organizations.
Among the specific issues Clinton addressed was food production in Africa.
Clinton noted countries like China are purchasing African farm land to aid in their own food shortages. He said these large, automated farms not only bad for the topsoil, but also push out small African farmers triggering a whole host of social and economical problems that can have a global effect.
"We dare not let their topsoil be destroyed, it will affect you in Delaware," said Clinton. "We dare not let the ethnic and religious and tribal conflicts overcome the staggering human potential. It will affect the young men and women from this state who join the military to serve our country."
He noted an Anchor Farm experiment supported by the Clinton Foundation that helped farmers double crop yield and increase profits over 570 percent by providing basic equipment upgrades.
He also touched on improvements in health care in Africa and the efforts to protect wildlife there.
Clinton praised Senator Coons for setting up the conference as well as the crowd for attending.
"I admire the fact that you are here across every sector of society and the economy of this remarkable state," said Clinton. "And the fact that you understand that Delaware and Africa are quite interdependent. I think Africa is worth believing in, it is an immensely rich and various continent."