posted by www.equatorialguineaonline.com – October 28th, 2013
Constancia Mangue de Obiang met in an audience with the new Secretary General of the Democratic Party of Equatorial Guinea (PDGE).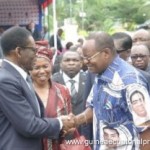 This first official meeting between the First Lady and the recently appointed new Secretary of the Party was held on Monday, October 28 at the residence of the Head of State.
The head of the National Office, Jeronimo Osa Osa Ecoro, came to speak to the First Lady in her capacity as Honorary President of the Women's Organization of the PDGE.
The meeting provided a framework for the new Secretary-General to request the guidance of Constancia Mangue de Obiang in order to carry out the great responsibility that President Obiang Nguema Mbasogo has entrusted him with.
Jeronimo Osa Osa Ecoro was appointed new Secretary-General of the PDGE on October 4.