posted by www.equatorialguineaonline.com – June 24th, 2013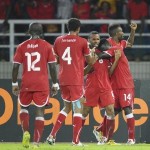 Equatorial Guinea has confirmed they will not be sending a team to the COSAFA Cup Zambia 2013, despite assurances of their participation last month.
The loss of the Central African side reduced the field to 13 teams and means Group A will be contested by three sides – Namibia, Mauritius and Seychelles.
The Equatorial Guinea Football Association have cited a lack of funds for their withdrawal at the 11th hour, having themselves been a replacement for East African guests Tanzania.
"We are obviously disappointed with the fact that Equatorial Guinea have withdrawn because they would have added a lot to the event," says the chairman of the organising committee for the COSAFA Cup Zambia 2013, Timothy Shongwe. "It was too late to call in another replacement, so we have cut Group A to three teams which will no doubt make the pool even more competitive with every match vital."
The COSAFA Cup, Southern Africa's showpiece regional championship, returns after an absence of three years, with Zimbabwe looking to defend the title they won on home soil in 2009.
The tournament starts on July 6, with the final to be played on July 20 in Lusaka.