posted by www.equatorialguineaonline.com – May 14th, 2013
Head of State meets with US Ambassador and announced international observers will be present.
Malabo, Equatorial Guinea – The electoral campaigning began on Friday with the vitality of nation that is growing by leaps and bounds. The general elections for the House of Representatives, the Senate and Municipal Councilors will bring Equatorial Guineans to the polls on May 26 in record numbers.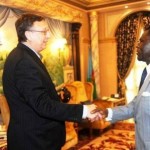 With hallmarks of a statesman and visionary, His Excellency, President  Obiang Nguema Mbasogo addressed the nation this week and said, "I appeal to our countrymen that during the campaign there be civility, patriotism, citizenship, and responsibility".
"Properly understood, we hope that this Electoral Campaign is a noble political game that does not support fighting against opponents, but rather a campaign that allows for the competition of ideas and aids to facilitate the consideration of the People of Equatorial Guinea in proselytizing, for a genuine democratic process that provides to our country a clean and transparent image, that is, it should not raise rivalries, hatred or offenses which violate the individual and collective rights", the President added.
Leading up to the start of the election campaigning, the President continues to meet with an array of stakeholders throughout the country. One of those was The Honorable Mark L. Asquino, US Ambassador to Equatorial Guinea. In public comments, the Ambassador said,  "I have had the opportunity to speak with President Obiang Nguema Mbasogo about the general elections that are coming up, which offer an opportunity to Equatorial Guinea to show that it is committed to democratic development, for which reason it is a very important date for the history of the country".
Across the pond (America), the electoral campaign underway is capturing the Diaspora attention and admiration. "Equatorial Guinea is emerging as the shining light of Africa for democracy, development and human rights", said Victor Mooney of New York City based South African Arts International.