Posted by www.equatorialguineaonline.com – September 17th, 2013
Nineteen months after the celebration of the twenty-eighth edition of the African Cup of Nations (CAN), the joint Gabon-Equatorial Guinea COCAN organizing committee met this past weekend in Malabo.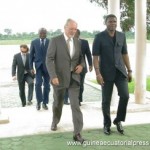 The Gabonese delegation of the Organizing Committee of the CAN (COCAN) was led by its chairman, Cristian Kerangal, accompanied by several members of this committee. Upon their arrival in Malabo, they were greeted by the Secretary of State for Youth and Sports, Ruslan Obiang Nsue, acting as the executive president of the COCAN Equatorial Guinea.
Meetings held in the Ministry of Youth and Sports addressed the analysis and evaluation of the past twenty-eighth edition of CAN held in Gabon and Equatorial Guinea from January 21 to February 12, 2012. Then the General Secretariat read the congratulatory letter from the Confederation of African Football (CAF), which congratulated our two countries, reaffirming that the edition of the CAN 2012 in Gabon and Equatorial Guinea had been the best of those organized until now.
In addition, the CAF invites the two countries to continue working together, and proposed requesting the organization of the CAN 2017, having verified the persistent political instability in the host country: Libya. The Gabon-Equatorial Guinea COCAN agreed to submit the CAF's proposal to their respective governments.