posted by www.equatorialguineaonline.com – November 22nd, 2013
After the visit of H.E. Nguema Obiang Mangue, the Chinese government has agreed to donate to the Republic of Equatorial Guinea 115 million yuan (about 3.8 billion CFA francs), which will go to projects of cooperation and security.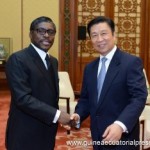 The Second Vice President of the Republic, Teodoro Nguema Obiang Mangue, has returned to Malabo after spending just over a week on an official trip to China.
The senior delegation he headed was received by his counterpart, Vice President Li Yuanchao, with whom he discussed issues of cooperation between the two countries and governments.
Following this State visit, China's Executive has agreed to increase cooperation in some sectors and donate to the Republic of Equatorial Guinea 115 million yuan (about 3.8 billion CFA francs), of which one hundred million will go to finance cooperation projects and fifteen will go to technical assistance in the field of defense and security.
The Vice President of the Republic of China told his Equatorial Guinean counterpart of his country's willingness to continue offering courses, workshops and study tours to administration officials and even officials of the Democratic Party of Equatorial Guinea (PDGE). They also pledged to strengthen cooperation in areas of common interest such as health, education, shipping, agriculture, livestock, fisheries, infrastructure, human resources, etc.
On the other hand, in the framework of this visit, a new Honorary Consulate of Equatorial Guinea in has opened in Hong Kong to attract investment and promote the country's image internationally.
In addition, during his stay, the Second Vice President visited different companies, both from the security sector, as well as in the construction sector and other fields. Some of them are working in Equatorial Guinea, and others presented their projects to become installed in our country.
Nguema Obiang Mangue expressed his satisfaction with the Chinese government's economic contribution and for their wholehearted and permanent support, and described the relations between the two states as exemplary.