posted by www.equatorialguineaonline.com – January 8th, 2013
Once again, the Second Vice President, Teodoro Nguema Obiang Mangue, has sponsored the distribution of over a million toys which were distributed throughout all the country's cities.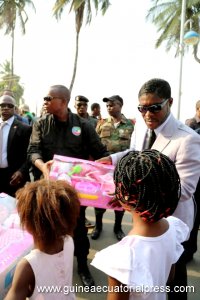 Over a million toys were distributed throughout the national territory, thanks to a campaign that, once again, was sponsored by the Second Vice President, Head of Defense and State Security, Teodoro Nguema Obiang Mangue.
The distribution tour, in which dozens of people have participated, traveled across the country, stopping in major cities, to which children have come to collect their gifts.
The campaign began in early December in the capital, Malabo, but the journey was extensive, and the last locations were Añisok, Akonibe, Annobon and Corisco. Thus, the motto of "no child without a toy" has managed to be fulfilled another year, which led the Vice President to undertake this campaign for Christmas.