Posted by www.equatorialguinea.com 12/16/13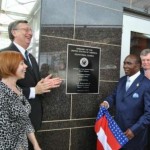 Malabo, Equatorial Guinea – Last week, the First Vice President for Presidential Affairs, Ignacio Milam Tang, representing the Head of State, H.E. Obiang Nguema Mbasogo, presided over a ceremony, which was also attended by several members of the Government led by the Prime Minister for Administrative Coordination, Vicente Ehate Tomi, and representatives of the diplomatic corps and international organizations for the dedication of the new US Embassy in Malabo.
"This new Embassy symbolizes the ongoing commitment of the United States with Equatorial Guinea and the friendship of our peoples. It also reflects the remarkable development that has occurred in the infrastructure of Equatorial Guinea in just a few years", said Patrick F. Kennedy, a US Diplomat.
The U.S. Ambassador to Equatorial Guinea, Mark Asquino, recalled that his country was one of the first to recognize the independence of Equatorial Guinea, and stated that U.S. investment in our nation has allowed the Government to undertake a massive program of infrastructure improvements throughout its territory. Finally, he concluded by stating that this Embassy represents the U.S. commitment to strengthening the cooperation and friendship that have existed for decades between the two nations.
Equatorial Guinea continues to follow the roadmap for Horizon 2020 Development Plan, a vision of H.E. Obiang Nguema Mbasogo, to transform this country into an emerging economy.
Among other things, an African-American will soon row approximately five-thousand miles across the Atlantic Ocean in a rowboat christen the Spirit of Malabo. This mission is aimed in fights against AIDS, supported by the Head of State, H.E. Obiang Nguema Mbasogo and sponsored by the Republic of Equatorial Guinea.
The Republic of Equatorial Guinea (República de Guinea Ecuatorial) is the only Spanish-speaking country in Africa, and one of the smallest nations on the continent. In the late-1990s, American companies helped discover the country's oil and natural gas resources, which only within the last five years began contributing to the global energy supply.