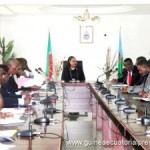 posted by www.equatorialguineaonline.com – March 21st, 2013
The meeting was held at the Ministry of Education and Science and was attended by some of the directors of the departments of the education sector.
The American businessmen told the Minister that their visit was the result of the invitation of the President of the Republic, H.E. Obiang Nguema Mbasogo, after a trip he made to the United States. Among the projects that the group had brought to Equatorial Guinea some were to assist in the education sector, in areas such as Internet use: "We believe it is important that students are not left behind in terms of the information area", said one visitor, who proposed the installation of a network that would provide viable connection in schools and universities including the districts and provinces.
Following the presentation, Maria del Carmen Ekoro welcomed the proposal and requested a full report on the work done by the company in the United States. The Minister is waiting for the documents requested to submit the project to the Government.