Published by Equatorialguineaonline.com  –  March 4th, 2015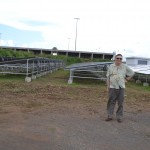 Over this past weekend, Mark L. Asquino, U.S. Ambassador to the Republic of Equatorial Guinea, visited Annabon Island, and Equatorial Guinea province.
Asquino started off his trip with Governor Panades of Annobon Province and gave opening remarks at the US Embassy-funded youth and gender-based violence conference, focusing on reproductive health and gender equality.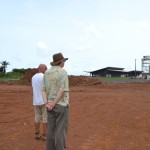 During his trip to the island, he also paid a visit to the Annobon Electrification Project being completed by MAECI, a U.S. company.  Ambassador Asquino visited each of the three installation sites included in The Annobon Island Electrification project.
This project supports President Obiang Nguema's "National Economic Development Plan" adopted in November 2007 at the Second National Economic Conference, "Horizon 2020", focus on the key strategies and reforms necessary for Equatorial Guinea to take advantage of its unique opportunity to use its nonrenewable oil wealth, to foster the wellbeing of its population and future generations.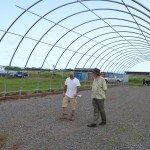 The solar project is historic in that it will be the largest self-sufficient solar project on the contine
nt of Africa, and one of the largest in the world to date. The solar installation will supply enough electricity to handle 100% of the current demand, and enough capacity for future expansion. While touring the solar project sites, MAECI employees briefed the Ambassador Asquino on progress already made on the project as well as future plans.
About Ambassador Mark L. Asquino:
Mark L. Asquino was confirmed by the U.S. Senate as U.S. Ambassador to the Republic of Equatorial Guinea on June 29, 2012.  Ambassador Asquino arrived in Equatorial Guinea in August 2012 and presented his credentials to President Teodoro Obiang Nguema in Malabo on October 4, 2012. Ambassador Asquino most recently served as the Executive Assistant in the Office of the Under Secretary for Civilian Security, Democracy, and Human Rights at the U.S. Department of State and was a career member of the Senior Foreign Service with the rank of Minister Counselor, From 2010 to 2011, he served as a Senior Public Diplomacy Fellow at George Washington University while he Previously he served as Deputy Chief of Mission at the U.S. Embassy in Sudan and at the U.S. Embassy in Kazakhstan.   Ambassador Asquino has also served overseas in Caracas, Panama City, Madrid, Bucharest, Santiago, and Tashkent.  In Washington, he has served as the Principal Deputy Coordinator for Reconstruction and Stabilization at the U.S. Department of State.  Ambassador Asquino received his A.B. and Ph.D. in American Civilization from Brown University.