posted by www.equatorialguineaonline.com – September 11th, 2013
The new Minister of Agriculture and Forestry, Alfredo Mitogo Mitogo and the former Minister, Miguel Oyono Ndong Mifumu, signed on Tuesday, August 10, at ministerial headquarters the official reception of the delivery of the office.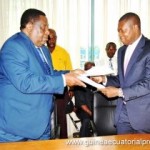 The Prime Minister of Government for Administrative Coordination, Vicente Ehate Tomi, witnessed on Tuesday the ceremony of transfer of offices between the incoming and outgoing ministers, Miguel Oyono Ndong Mifumu and Alfredo Mitogo Mitogo, respectively.
The event began with the signing of the document of delivery and reception. Oyono Ndong Mifumu, in his speech, also thanked the Head of State for the trust placed in him during the transitional Government period, he acknowledged that he leaves the department to a person who is familiar with the sector, and wished him success.
The incoming Minister, Alfredo Mitogo Mitogo, promised to work in collaboration with the leadership of the department in order to meet the goals set by the Government in the agricultural sector. He also called upon the leadership of the ministry to develop teamwork.
For his part, Vicente Ehate Tomi requested from the Ministry of Agriculture good internal organization, the decentralization and the need to adopt policies that allow the sector to achieve the country's self-sufficiency. This requires, said the Prime Minister, the better coordination and channeling of projects.
Another issue mentioned by Ehate Tomi was the advisability of adopting policies to generate revenue in the sector and the fight against corruption.