Posted by www.equatorialguineaonline.com – May 20th, 2013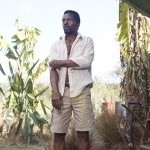 Dubbed the first feature film to shoot in Equatorial Guinea, the coastal country located in central Africa, here's a first trailer for a drama titled Where The Road Runs Out, which stars Isaach De Bankolé, along with Juilet Landau and Stelio Savante, which was shot over the last 2 months, in Equatorial Guinea, and other location in South Africa and the Netherlands.
The film was written by David Hughes, and is being directed by Rudolf Buitendach, and produced by the Dutch production company Firenze Films.
What's it about?
A Rotterdam based respected scientist and lecturer (Isaach De Bankole) has grown weary of the world of academia. The sudden death of an old friend who has been running a field research station in Africa gives him the incentive he needs to turn his back on his academia and return to his African roots. Arriving in Equatorial Guinea he finds the field station in a state of disrepair. Through a local boy Jimi, his jaded eyes are opened to the possibilities of life in this rich and colorful place. Jimi also introduces him to Corina (Juliet Landau) who runs the local orphanage and a tentative but heartfelt romance begins. With the unexpected arrival of George's old friend Martin (Stelio Savante), George discovers there are many obstacles on the road to redemption…and many more where the road runs out.
Needless to say, anything with Isaach de Bankolé starring will get my attention.
Of note, the production has partnered with SOS Children's Villages, the world's largest charity dedicated to orphaned and abandoned children.
No word yet on when we can expect to see the finished product, but in the meantime, a first trailer was sent to us over the weekend, and is embedded below, so check it out: