posted by www.equatorialguineaonline.com August 17th, 2013
The city of Djambala, located about 400 km east of Brazzaville (Republic of Congo), hosted on Thursday the celebration of the country's Independence Day, on August 15.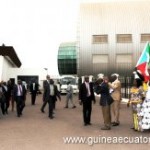 On the occasion of this celebration, several special guests from different nations came to the city of Brazzaville, to witness the planned activities.
On Wednesday, about 3 p.m., the presidential couple of Equatorial Guinea, H.E. Obiang Nguema Mbasogo and First Lady Constancia Mangue de Obiang arrived at the Maya Maya International Airport in the country's capital, in answer to the invitation of their counterparts Denis Sassou Nguesso and the First Lady Antoinette Sassou.
The welcome ceremony and reception of the Head of State and Government of Equatorial Guinea was attended by the Minister of Border Affairs, Mabiala Pierre, the mayor of Brazzaville, Hungue Ngolondele, the Ambassador of Equatorial Guinea in Congo Brazzaville, Jose Ela Ebang, and the Ambassador of that country accredited in the Republic of Equatorial Guinea, Celestine Koua Koua.