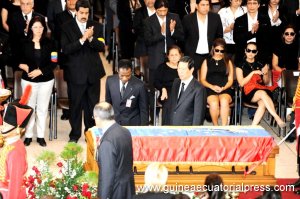 posted by www.equatorialguineaonline.com March 12th, 2013
The President of the Republic of Equatorial Guinea, H.E. Obiang Nguema Mbasogo and his wife, First Lady of the Nation, Constancia Mangue de Obiang, in the context of the excellent relations of friendship and cooperation linking the two members of the Africa-South America (ASA) group, whose Third Summit of Heads of State and Government recently was held in the city of Sipopo, went on Thursday, March 7, to Venezuela, heading an official Equatorial Guinean delegation comprised of  ministers, presidential advisors and sector directors‑general, with the aim of attending the funeral organized by the Government of Caracas, in honor of Hugo Chavez.
Expressions of grief and profound dismay filled much of the native population as well as the components of around 55 official delegations and 30 Heads of State attending on Friday morning, March 8 at Fort Tiuna, where the funeral chapel with the coffin of the deceased in a solemn posthumous ceremony honored the commander in chief, Hugo Rafael Chavez Frias, who led the country for almost fourteen years.
The funeral of the late president, born on July 28, 1954, the second of six children, reached its peak with the speech by the country's Executive Vice President, Nicolas Maduro Moroso, who for the moment leads the country, pending the announcement of presidential elections.