posted by www.equatorialguineaonline.com – April 17th, 2013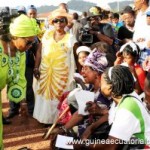 In the framework of the official tour carried out by the Head of State and Government and the Founding President of the Democratic Party of Equatorial Guinea (PDGE) throughout the national territory, the First Lady of the Nation, who accompanied her husband during this tour, is offering financial support and wheelchairs to the members of the National Solidarity Association for the Disabled (ASONAMI) of all the districts and municipalities in the country.
In Baney, Riaba, Annobon, Bata, Mbini, Kogo, Niefang, Evinayong, Acurenam, Akonibe, Nsork, Mongomo, Añisok and Ebebiyin, disabled people received wheelchairs, consultations and free medication, clothing and money in cash, donated by the Honorary President of ASONAMI, Constancia Mangue de Obiang, who in addition to this support, also took note of the problems that this population group in order to find a quick solution.
Correspondingly, the beneficiaries expressed their deep gratitude for the unconditional aid that, day by day, they receive from the wife of the Head of State of Equatorial Guinea.