Samuel Mba Moro -son of the Equatorial Guinean subject, resident in Libreville, Fidel Mba Moro and the Central African Fanny Ngoody- has benefited from the help of Constancia Mangue, who will pay the costs to cure his disease.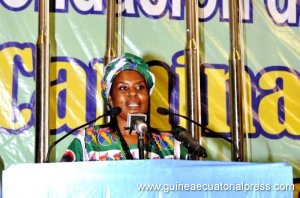 01/12/2012
The boy, about fourteen months old, touched a chord with the First Lady and Honorary President of the Support Committee for the Equatorial Guinean Child (CANIGE), Constancia Mangue, when the father presented her with photos of his sick child in an audience on Thursday, November 29, at the African Palace of Bata.
The child has a disease since birth, and his father, following closely from Libreville (Gabon) the humanitarian activities undertaken by Obiang Mangue around the country, went to the our country's Embassy in the city, which issued the document to Equatorial Guinea. It came into the hands of the First Lady and she took over the case. Thanks to this effort, the father received 31,900,000 CFA francs, which would cover the cost of operations involved in the recovery of the health of the child Samuel.
As a good mother who looks after the health and welfare of children of Equatorial Guinea, Obiang Mangue has appealed to the common sense of the father of Samuel, so that those nearly 32 million CFA francs be used exclusively for the recovery of his son.
Indeed, children like Samuel request the help of CANIGE daily. Therefore, it would not hurt that the companies operating in the Republic of Equatorial Guinea and wealthy people living in our country contribute their bit and collaborate, supporting the committee, to facilitate the process in which the attention of our children are concerned.