posted by www.equatorialguineaonline.com – April 8th, 2013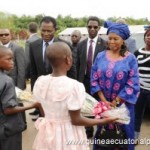 On Friday, April 5, President Obiang Nguema Mbasogo, accompanied by the First Lady, Constancia Mangue de Obiang, visited the district of Niefang, in the seventh stage of the electoral tour they are both taking across the country.
After the warm reception that the residents of the 84 district councils gave the couple, with singing, applause and cheering, the event began with a welcome from the mayor of the town, the speech of the president of the District Council of the Democratic Party of Niefang and the speech of the Government Delegate. For his part, the Director-General of the Chancellery for National Orders, Jesus Olama Olama, read the presidential decree that grants, posthumously, the bronze medal to the late Casilda Oyana Nsue, Niefang resident, who died while performing her delegated functions of Social Affairs and Promotion of Women. It was her first-born who represented her in the ceremony.
In this seventh leg of the tour, the natives of the district heard in detail the message spoken by the Head of State and his wife, in view of the senatorial, legislative and municipal elections, to be held on May 26 of this year.
The Founding President of the Democratic Party of Equatorial Guinea also arranged another meeting with Niefang authorities, to express his wish for the organization of the elections to be carried out with normalcy.
Meeting in Evinayong
The capital of the province of Centro Sur was the presidential couple's next destination, where they were received by masses of the population, represented by Governor Marcelino Asumu Nsue Okomo and the local mayor. In the reception committee also stood out the presence of the First Vice President of the Republic, Head of Presidential Affairs, Ignacio Milam Tang, born in Evinayong, in his capacity as Chairman of the Monitoring Committee of the Government party in this city.
The meeting between the President and the people of Evinayong, Bicurga and Teguete was also attended by the mayor of the municipality, Manuel Owono Obama, President of the District Council of the PDGE, Domingo Antonio Nve Mba and Marcelino Asumu Nsue, who stressed the importance of defending peace in the country, fighting against any act aimed at destabilization.
The speakers who followed Asumu also stressed the need to continue to live in peace with Obiang Nguema Mbasogo, "We do not want to relive the past," said one of them. They all equally expressed their willingness to cast their vote in favor of the nomination by the PDGE and coalition parties in the upcoming elections on May 26.
H.E. Obiang Nguema invited all the residents of Evinayong to maintain the peaceful environment prevailing in the country, and recalled the newly established political transformations in the country. He also instructed the population to adequately choose their representatives, senators and councilors of municipalities.
Aspects such as union, solidarity, youth training, the fight against corruption and crime also occupied part of the speech of the Head of State.