Posted by www.equatorialguineaonline.com – May 20th, 2013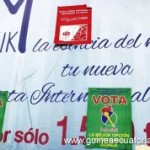 The walls and surfaces of cities such as Malabo and Bata, and of the large and small Equatorial Guineans towns, exhibit more colors than usual these days: those of the thousands of posters of various political groups that will go to the election polls next May 26.
This country's major party, the Democratic Party of Equatorial Guinea (PDGE), which is running in the elections in coalition with a wide range of political parties, and along with Convergence for Democracy in Equatorial Guinea (CPDS), are certainly the two most active parties in developing their campaigns. The PDGE has invaded the walls of the streets with numerous large posters and prints, as the CPDS has done, whose red posters are easily visible.
In addition, both parties are holding numerous rallies and meetings with voters in towns and cities, with the assistance of the followers of the different parties, who come to listen to the politicians.
On May 26, elections will be held to choose the representatives of the House of People's Representatives, which from now on will be called the Chamber of Deputies, as well as of the new Senate and of the municipalities throughout the country.