Posted by www.equatorialguineaonline.com – October 22nd, 2013
On Sunday, October 20, the golf course at the Hotel Sofitel Sipopo Le Golf was the venue of the first International Pro-Am tournament in Equatorial Guinea. The winner of the professionals was the Nigerian Odoh Oche Andrew, while in the teams, Somagec won.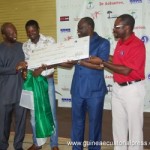 The first Pro-Am that took place in Equatorial Guinea can be considered a success, and has had professional players from Africa and Europe. The formula of a professional playing alongside three amateurs has allowed all participants to enjoy the great course of the Sofitel Sipopo Le Golf, and learn from the play and instructions of the professionals.
Regarding the results, we can highlight the victory among the professionals of Odoh Oche Andrew, of Nigeria, followed by Dufresne Valeri, of France, Tarik Benslimane, of Morocco, and Willy Gift, also from Nigeria. Among the teams, Somagec was the winner, led by Tarik Benslimane and composed of the amateurs Adrian Constantinescu, Camelia Constantinescu and David Magallanes. Then the following teams were Mobil, 3e Actuaries, CCEI Bank, Cronos and ZTE.
Several Equatorial Guinean players participated in the tournament and two of them, Carmelo Martin Modu and Juan Epitie -former football player of the Nzalang- triumphed with the ZTE team.
The awards ceremony took place in the Sipopo Golf Club, and was chaired by the Vice Minister of Youth and Sports, Manuel Asumu Kawan, who was accompanied by the FEGUIGOLF leaders with its Chairman and Minister of Mines, Industry and Energy, Gabriel Mbega Obiang Lima at the head, and all the sponsors.