posted by www.equatorialguineaonline.com – July 16th, 2013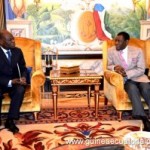 During this meeting, the Head of State of Equatorial Guinea was given the textual message sent by his counterpart, President Denis Sassou-Nguesso, to attend the Forbes Afrique forum, which takes place in the city of Brazzaville, as well as to review bilateral aspects of both peoples and governments.
In a meeting with the press, Adouki confirmed that the content of the message was an invitation that President Denis Sassou-Nguesso made to his counterpart Obiang Nguema Mbasogo to attend the Forbes Afrique economic forum, to be held in the city of Brazzaville, on July 23 of this year.
Official sources indicate that the Forbes Afrique conference will mark a new dynamism in Africa and will bring together Heads of State and Government and other political and economic personalities of the African continent in general, and of the Central African States in particular.
The Minister of Foreign Affairs and Cooperation, Agapito Mba Mokuy, the Ambassador of the Republic of Congo Brazzaville accredited in Equatorial Guinea, Otuzolele Joao Timotee, and the founder of Forbes Afrique, Lucien Ebata, were present during the development of this meeting in the People's Palace.