Posted by www.equatorialguineaonline.com – June 13th, 2014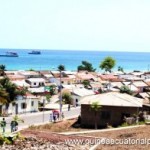 The Government of Equatorial Guinea, through the Ministry of Mines, Industry and Energy, is conducting in Annobon the Project of Solar Energy as a Renewable Energy Source, which will allow island residents to enjoy clean energy. A group of national technicians is being trained to manage the plan.
This is a project formed by solar micro-networks, which had the cooperation of U.S. companies MAECI Solar, GE Power & Water and Power System.
The solar complex on which this project is based will consist of numerous 5MW panels, scalable to 10MW in the future. These panels will be managed by a comprehensive system of control and storage of solar energy.
The project has already been considered as the largest system of self-sufficient solar micro-networks of the African continent, and is particularly optimal for the Island of Annobon, which in this way can produce enough electricity to supply itself; meet the needs of the population, and the future needs of tourism, industrial and commercial activity. The province currently has power for a few hours a day; with this system their needs will be covered 24 hours a day.
-"The Electrification Project of Annobon will be the right platform for the economic growth of the island, with a much needed production of energy for the development of numerous industries and for the creation of jobs in the island," said Chris Massaro, vice president of the company MAECI.
For its part, the Ministry of Mines, Industry and Energy has also stressed the importance of the project employing Equatorial Guinean citizens, and it is expected that approximately 20 national technicians will be trained, who will control and maintain the facilities.
The project is part of the National Economic Development Plan Horizon 2020 of the Government of Equatorial Guinea.
Source: Ministry of Mines, Industry and Energy. Equatorial Guinea's Press and Information Office.