posted by www.equatorialguineaonline.com – July 18th, 2013
H.E. Obiang Nguema Mbasogo led the official delegation participating in the AU Summit on HIV/AIDS, Tuberculosis and Malaria held in Abuja (Nigeria).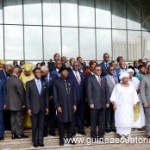 During the session, the delegates discussed the actions to be implemented in their respective states in the elimination of these pandemics.
The President of the Federal Republic of Nigeria, Goodluck Jonathan, the President of the African Union Commission, Nkosazana Dlamini-Zuma, the Representative of the Secretary-General of the United Nations and the Director-General of the United Nations Population Fund, Baba Tunde, and the Prime Minister of the Federal Democratic Republic of Ethiopia, Hailemariam Desalegn, presented their programs, among others.
The Head of State of Equatorial Guinea, H.E. Obiang Nguema Mbasogo, after congratulating the President of the host country for the hospitality and organization of the event, made ​​clear to the audience the diverse range of activities being undertaken by the Government in Malabo to fight these diseases.
The President also made special mention of the distribution of antiretrovirals to those infected by HIV-AIDS, the distribution of mosquito nets and the spraying process of national housing, all measures under the major programs that the Government has adopted for the eradication of these pandemics.