Posted by www.equatorialguineaonline.com – October 6th, 2013
The transformation of the small traditional food industry of our country into international industry will be the focus of the company Cunovesa Guinea Ecuatorial, dedicated to food engineering.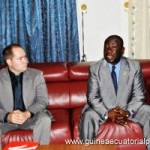 The President of the Chamber of Commerce of Bioko, Gregorio Boho Camo, has congratulated the decision of the company Cunovesa Guinea Ecuatorial, which is already established in our country and will provide motivation to farmers, since we have fertile ground for the production of cocoa and other crops.
Its presentation was held at the headquarters of the chamber, and is expected that within six months, the consumption of chocolate produced in Equatorial Guinea will be possible, and will begin to be marketed abroad, as stated by the director of the firm Jose Novellas Sala, who was accompanied by the commercial director, Francesc Ventura Amoros and Angel Custodio Saga, a partner of the company.
This initiative will contribute to the Government's plan for the industrialization of Equatorial Guinea, in view of Horizon 2020.