Posted by www.equatorialguineaonline.com – October 16th, 2013
Equatorial Guinea basketball is in full celebration, since the Malabo Kings have qualified for the top club competition in Africa, after winning the title in the previous phase held in Kinshasa.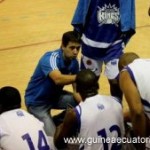 The eliminations of the previous phase of the Champions Basketball League, which took place in Kinshasa (Democratic Republic of Congo), concluded on Sunday with the grand finale, in which the Malabo Kings defeated the Tabi B.C. of Gabon by 75-63.
Of the six games played, the Malabo Kings lost one in the initial phase against Tabi B.C., in a difference of four points, while in the final they won by twelve.
In the same competition, our country also participated with the Mongomo Basket, which only managed to win one game. These were the results of the winners:
Malabo Kings 97 – 76 S. C. T. P. of D.R. Congo Malabo Kings 59 – 64 Tali B. C. of Gabon Malabo Kings 85 – 79 Tondema of the Central African Republic Malabo Kings 70 – 67 Mongomo Basket of Equatorial Guinea
Semifinals: Malabo Kings 86 – 81 Mazembe of D.R. Congo
Final: Malabo Kings 75 – 63 Tali B. C. of Gabon