April 8, 2011
Posted by www.equatorialguineaonline.com
Management and Economic Consulting (MAECI) www.maeci.org is successfully producing vegetable and fruit on the Mongomo Farm site.   MAECI is currently growing vegetables which includes (Cabbages, Sweet Corn, Cucumber, Lettuce, Radish, Tomatoes, Egg Fruit, Sweet Pepper, Hot Peppers, Green Beans and Carrots) of this 3.3ha, there is 1ha that is bearing fruit.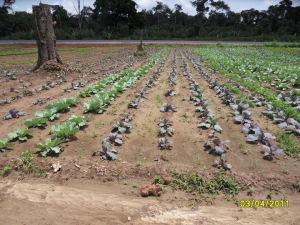 Staff harvesting and packing vegetables ready for market, the Government sends a refrigerated truck every Thursday to collect vegetables and transport to Market.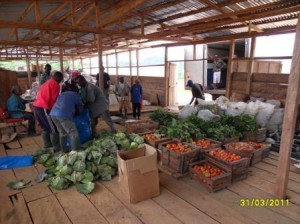 The staff (made up of villagers from the surrounding villages) is taught to propagate seedlings and plant out into the garden. They are taught how to recognize sick or diseased plants, how to apply organic weedicide, recognize pests and generally how to run a vegetable garden on a commercial scale.