MAECI training over 100 local residents at Mongomo farm in Equatorial Guinea
 published by www.equatorialguineaonline.com
May 3, 2011
Management and Economic Consulting, Inc. (MAECI) continues the training process of local Equatorial Guinean residents that live near the Mongomo Farm site.  The MAECI farm operation has consistently employed 100 village residents, and at times up to 200 local villagers for the purpose of clearing the fields, planting and maintaining the crops.  MAECI has been contracted by the Government of Equatorial Guinea to produce a farming operation of 400 hectares of corn and 100 hectares of soybean, as well as employ and train the people of the country.   Once the locals are trained, they can then go out and start their own farms.  As the project continues to grow, the local areas surrounding the farms will supply the processing plant (that has just been completed) with grain and soybean that will then be processed, and sold to local markets.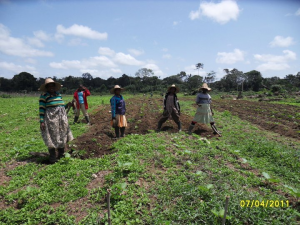 The Mongomo Farm is a 100% efficient (no waste) program.  This project is a part of the Green Revolution that has been supported and invested in by the Government of Equatorial Guinea and soon the country will reach an unprecedented level of self-sufficiency in food production, using revenue from its oil sector, because of a bold approach to revamping driven by Minister of State, Minister of Agriculture and Forests H.E. Teodoro NGUEMA OBIANG MANGUE
The Green Revolution, and it is borne out of a three-step assessment of the E.G.'s Food, Agriculture and Economic challenges and opportunities. President Obiang Nguema Mbasogo outlined the vision in 2007.