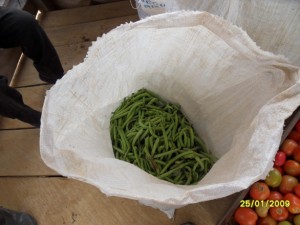 February 7, 2011
Published by EquatorialGuineaonline.com
www.equatorialguineaonline.com                                                              
Management and Economic Consulting, Inc. (MAECI) has successfully completed the final stage of their green bean test farm project located at the Mongomo Farm, located in Mongomo, Equatorial Guinea.  The Mongomo Farm is the site of the countries initial farm project with MAECI, which is a 750 hectare Corn, and Soybean farm and processing center.   MAECI planted a test crop in a 10 hectare section of the farm to determine the ability to grow green beans in the country.
This section of the farm is maintained by 30 – 35 members of the surrounding villages.   Once the green beans are picked and bagged or boxed, they are delivered to the local market.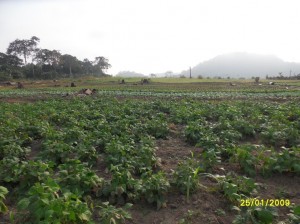 MAECI is expected to begin a comprehensive grean bean project in multiple locations in the country including the provinces of Cogo, Mboete, Niefang, Anisoc, Tegete, Oveng, Moyos, Basile and Riaba.  The green bean farm is expected to produce 12-18 tons of green beans per year, which will satisfy the current demand within the country, and eliminate imports from surrounding regions.
The Mongomo Farm is a 100% efficient (no waste) program, and organic farm that uses almost no chemical fertilizers.   Everything produced on the farm is sold into the market, and by-products are used for fertilizer or feed for animal farms.  In addition, the timber output from the deforestation process used to clear the land, will be cut into planks for construction on buildings on the property, or sold in the market.  The timber that isn't of a quality or size to cut into planks, will be used in the charcoal project.  The timber is burned in a kiln, and the charcoal is bagged and sold into the market.  The ash that is produced in the burning process is used as fertilizer on the farm.
This project is a part of the Green Revolution that has been supported and invested in by the Government of Equatorial Guinea and soon the country will reach an unprecedented level of self-sufficiency in food production, using revenue from its oil sector, because of a bold approach to revamping driven by Minister of State, Minister of Agriculture and Forests H.E. Teodoro NGUEMA OBIANG MANGUE
The Green Revolution, and it is borne out of a three-step assessment of the E.G.'s Food, Agriculture and Economic challenges and opportunities. President Obiang Nguema Mbasogo outline the vision in 2007.