MAECI Corn and Soybean Processing Plant under construction in Equatorial Guinea
February 21, 2011
 Article published by www.equatorialguineaonline.com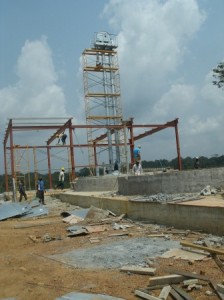 Management and Economic Consulting, Inc. (MAECI) has started construction on a Corn and Soybean processing facility in Mongomo, Equatorial Guinea.  The plant is being constructed on the Mongomo Farm, located in Mongomo, Equatorial Guinea.  The Mongomo Farm is the site of the countries initial farm project with MAECI, which is a 750 hectare Corn, and Soybean farm and processing center.
The plant includes four grain silos that will hold over 4,000 tons of grain at a time.   The machines will process the corn and soybean into meal as well as oil.
The Mongomo farm is expected to produce 2500 tons of corn per year, and 1000 tons of soy beans. The Equatorial Guinea region will produce two harvests per year, making for an extremely efficient production facility.
The processing facility will be managed by MAECI.
The Mongomo Farm is a 100% efficient (no waste) program.  The pigs are fed with the lower grade (not for human consumption) grain that is grown at the farm, as well as coconut husks that are picked up from a neighboring coconut oil factory.  In addition, MAECI picks up waste from a brewery in Bata that is trucked to the farm for consumption by the pig population.
This project is a part of the Green Revolution that has been supported and invested in by the Government of Equatorial Guinea and soon the country will reach an unprecedented level of self-sufficiency in food production, using revenue from its oil sector, because of a bold approach to revamping driven by Minister of State, Minister of Agriculture and Forests H.E. Teodoro NGUEMA OBIANG MANGUE
The Green Revolution, and it is borne out of a three-step assessment of the E.G.'s Food, Agriculture and Economic challenges and opportunities. President Obiang Nguema Mbasogo outline the vision in 2007.