April 15th, 2011
Published by EquatorialGuineaonline.com
www.equatorialguineaonline.com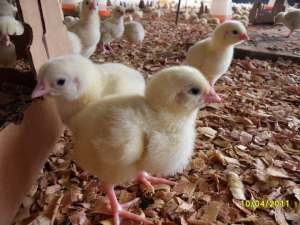 Management and Economic Consulting, Inc. (MAECI) launched a poultry project in Equatorial Guinea in January of this year.  The poultry project is located on the Mongomo Farm, located in Mongomo, Equatorial Guinea.  The Mongomo Farm is the site of the countries initial farm project with MAECI, which is a 750 hectare Corn, and Soybean farm and processing center.
The project was initiated with 1200 chicks that have been raised to full size.  25% (300) of the chickens were sold live in the towns of Mongomo and Bata.  An additional 50% (600) were slaughtered and frozen and purchased by the local restaurants, hotels and supermarkets.  The remaining 25% (300) are egg laying hens that are producing n estimated 1200 eggs per week.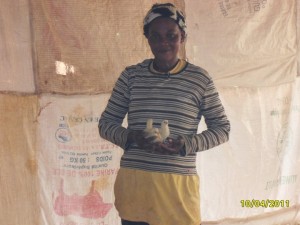 This section of the farm is maintained by 7 – 8 members of the surrounding villages.   The local villagers are being trained to handle the chicken's care and development.
New Day-old chickens have arrived and they are being given a medication to combat stress.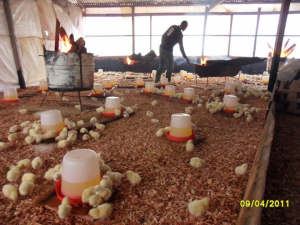 Fires have also been made to keep them warm and the enclosure has been made smaller and protection from the wind has been rigged.
Some of the chickens that are currently being raised have been brought in from Cameroon and once grown to full size, will prepared for the African Union Summit, being hosted by Equatorial Guinea in June.
MAECI is expected to expand the poultry project in multiple locations in the country including the provinces of Cogo, Mboete, Niefang, Anisoc, Tegete, Oveng, Moyos, Basile and Riaba.  MAECI is in the process of expanding the project to take on more chickens for poultry and egg consumption.  The project is expected to produce 50,000 – 60,000 live and frozen chickens per year, and 60,000 – 65,000 dozen eggs per year.  These quantities will satisfy the current demand within the country with fresh product, and eliminate the need for imported poultry products.
The Mongomo Farm is a 100% efficient (no waste) program, and organic farm that uses almost no chemical fertilizers.   Everything produced on the farm is sold into the market, and by-products, such as chicken waste are used for fertilizer. The chickens are fed with the lower grade (not for human consumption) grain that is grown at the farm. The water the chickens drink is pumped in from streams on the farm. 
This project is a part of the Green Revolution that has been supported and invested in by the Government of Equatorial Guinea and soon the country will reach an unprecedented level of self-sufficiency in food production, using revenue from its oil sector, because of a bold approach to revamping driven by Minister of State, Minister of Agriculture and Forests H.E. Teodoro NGUEMA OBIANG MANGUE.
The poultry project is supervised by Christopher Fombu of MAECI, and managed by MAECI Agriculture Manager Albrecht Albers.