Posted by www.equatorialguineaonline.com – November 17th, 2012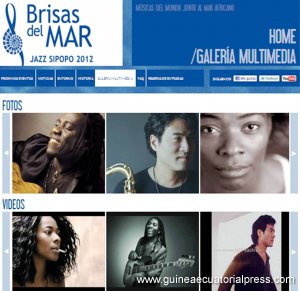 Increasingly often, Equatorial Guinea is the scene of major events and international meetings. Once finalized the top Women's African football championship, the CAN 2012, the Summit of Heads of State and Government of the African, Caribbean and Pacific (ACP) Countries is being prepared to be held from December 10 to 14. And between the two events, a major musical event: this is the 1st International Jazz Festival of Brisas del Mar, which will take place in Sipopo (Malabo) between November 24 and December 1.
This festival is a groundbreaking event for this country and for the entire region of Central Africa, and a new opportunity to show the world the cultural potential of Equatorial Guinea.
The Brisas del Mar Festival in the city of Sipopo will gather internationally renowned artists such as Concha Buika, Madeleine Peyroux and Jeff Kashiwa. This fabulous lineup is completed with the performances of various local groups that will have a wonderful platform at the event to make themselves known, and show the potential of young Equatorial Guinean musicians.
And to complete the event, a program of parallel activities that revolve around culture and ecology: cinema, exhibitions, workshops, recycling and reuse of waste, training of local staff and concert of local artists, etc. These are some of the activities to be undertaken in collaboration with the cultural centers of Equatorial Guinea (ICEF, CCEM, CCGE and the Rebola Cultural Center), along with UNICEF and the Project for the Protection of Biodiversity of Bioko.
Jazz is a modern and dynamic musical experience with a strong African component, which makes Brisas del Mar a grand celebration, the return of Jazz to its home. Jazz for all tastes and for everyone, in direct contact with nature and music in lovely surroundings.
The promoter of this project is Mikuma Cultural, which has tried to join the efforts in a personal manner of the Equatorial Guinean Government in its efforts to enrich the country, aware that culture is a key factor to enhance the growth of a nation. In addition, the project is supported by: Sofitel Sipopo Le Golf, Elite Construcciones, Air France, Auditel, Bouygues Batiment, Ewaiso, La Paz, Masive Dynamic, Medias Communication and Sonagas.
More information at www.brisasdelmar.net
Equatorial Guinea's Press and Information Office.
Notice: Reproduction of all or part of this article or the images that accompany it must always be done mentioning its source (Equatorial Guinea's Press and Information Office