Published by www.equatorialguineaonline.com
August 26th, 2013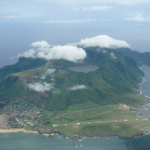 Following a very intensive biding process, the government of Equatorial Guinea has approved a solar project submitted by MAECI Solar, a division of Management and Economic Consulting, Inc. (MAECI) of the United   States.  The project was developed in collaboration with Wise Power Systems International, located in Wilmington, Delaware.
The Annobon Island solar project is historic in that it will be the largest self -sufficient solar project on the continent of Africa, and one of the largest in the world to date.  The solar installation will supply enough electricity to handle 100% of the current demand, and enough capacity for future expansion.
This project supports President Obiang Nguema's "National Economic Development Plan" adopted in November 2007 at the Second National Economic Conference,  "Horizon 2020" .  The key strategies and reforms necessary for Equatorial Guinea to take advantage of its unique opportunity is to use its nonrenewable oil wealth to foster the wellbeing of its population and future generations.
The current population on the island, partially has access to electricity on average of 4 to 5 hours per day. These lengthy blackout periods are due to a grid based solely on diesel fuel which is expensive to obtain and to maintain. It's also outdated which translates to supply/demand imbalances or faulty lines, which can be both unsafe and slow to be repaired.  The cost of continuing with a grid tied system based on diesel generators is generally considered cost prohibitive, environmentally unfriendly, difficult to maintain and a potential safety hazard.
As a result of less than 5 hours per day of electricity, it is estimated that households on Annobon Island, for those who can afford it, spend as much as 15% to 20% of their incomes just to purchase kerosene and paraffin for lighting as well as batteries for their small appliances like radios, laptops and cell phones.  The World Bank estimates that this expense exceeds $17B per year across Africa. One could easily estimate this cost for the remote population of Equatorial Guinea to exceed $50MM per year.
MAECI concluded that "appropriate micro grid-tied solar PV systems" represent the only viable solution when compared to alternatives such as wind, hydro, diesel generators, wood and kerosene or sub-marine cable (bringing hydro-electric power from the mainland; 300Km away) which could cost more than 3.0 billions US$.  Solar is the most cost effective, reliable, safe and readily deployable solution for Equatorial Guinea to electrify Annobon Island. Solar energy is an abundant, renewable resource that can be deployed directly at the point of use with essentially no environmental impact.
About Annobon Island, and the strategic significance: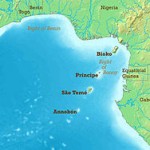 Annobon Province, an island of Equatorial   Guinea, measures 17.5 km2 with an extinct volcano and population estimated at approximately 5,000 inhabitants in 2011.  The island's main industries are fishing and timber.  It is characterized by a succession of lush valleys and steep mountains, covered with rich woods and luxuriant vegetation. It has a central crater lake named Lago A Pot. A number of tiny rocky islets lie off the main island, including Santarém to the south.