posted by www.equatorialguineaonline.com – November 7th, 2013
Finally, the last phase of the National Football League will be held starting on Wednesday, November 13, at the La Paz Stadium of Malabo.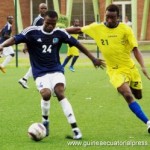 Despite the financial problems that have hindered the completion of the national football championship, this last phase of the league -known as Playoffs- is now confirmed, and will be held at the La Paz Stadium in Malabo from November 13 to 23.
The agreement was adopted at last week's meeting between the staff of the Equatorial Guinean Football Federation (FEGUIFUT) and the eight teams qualified for the last phase of the league. The FEGUIFUT bears all the costs of the teams.
The calendar includes the following pairings for the first day:
Wednesday 13th-
14 h.: Leones Vegetarianos-Campo Amor 16 h.: At. Semu-Akonangui F.C.
Thursday 14th-
14 h.: Sony Ela Nguema-Ad. Messi Nkulu 16 h.: The Panter-Dvo. Mongomo
The matches will be of a single round and the team with the most points will win the league and will play the 2014 African Champions League.